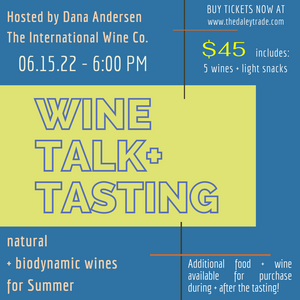 Wine Talk + Tasting 06.15.22
SOLD OUT!
Join us on Wednesday, June 15 at 6:00 PM for a wine talk and tasting w/ Dana Andersen from The International Wine Co. Learn all about 5 delicious wines for Summer and the fascinating stories of the wine makers behind them!

Each ticket includes:
• Tasting of 5 wines (2 white, 1 orange, 1 rosé, and 1 red)
• Light snacks
Our tapas menu will be available for purchase along with our full wine list during and after the tasting!
Limited availability -- 20 spots only
We can't wait to see you all there!

PLEASE ADD THE NAMES OF EACH GUEST ATTENDING ON THE "SPECIAL INSTRUCTIONS" PORTION OF CHECK OUT.